Water & Sewage Mitigation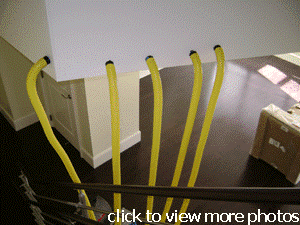 Structural Drying: Residential & Commercial

Contents Drying: Salvaging your personal property

Specialty Drying: Hard Wood Flooring, Concrete, Crawl & Confined Spaces

Anti microbial Treatments: Preventing the growth of mold after water damage
Sewage Removal: Cleaning and decontamination

Extraction and Pumping: Using our truck-mounted equipment

Miscellaneous Services: Emergency Board-Up, Temporary Electric - Generators, Total Loss Inventory, Temporary Housing, On-Site Cleaning, Pack-Out/Moving & Storage
Tip: To show more text click on the plus icon; to hide the text click on the minus icon.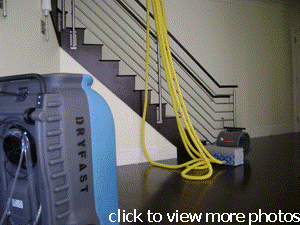 Restorative drying removes abnormal water from structures to "restore" materials to a normal condition. It prevents moisture damage, microorganism and soil contamination, odors, and loss of indoor air quality. When damage has already occurred, restorative drying combines with steps like cleaning, refinishing, removal and replacement. Most abnormal water comes from within the building.
Potential for damage exists even when the water is relatively clean from burst pipes, faulty appliances, leaky waterbeds, or many other sources. Sources that are more contaminating include overflowed toilets, sewer backups, or river floods. The purpose of restorative drying is to decontaminate and dry materials efficiently. Except for easily movable items like furniture and contents, the aim is usually to dry them on-site rather than remove them. In some cases, restorative drying can even save saturated books and documents, hardwood floors, and soaked walls and ceilings. When remediating any loss that involves contamination, there are five basic components of the project that need to be considered.
First consider the category of the water
Category 1, Category 2, or Category 3.
Category 1 loss (clean water) originates from a source that does not pose substantial harm to humans. Category 1 losses may deteriorate in cleanliness as the water mixes with soils and other contaminants and as time elapses.
Category 2 loss (known as gray water) contains a significant level of contamination, has the potential to cause discomfort or sickness and contains or may contain: biocontaminants (fungi, bacteria, viruses, and/or algae), nutrients for biocontaminants, chemicals or physical hazards. The level of contamination can be significantly aggravated by temperature (warmer water deteriorates faster) and time (may change to Category 3 water if untreated for 48 hours).
Category 3 loss (known as black water) is grossly unsanitary and will contain pathogenic agents, sewage and other contaminated water sources.
Restorative Drying Contractors
environment as quickly as possible without causing any additional damage. The keyword is "restorative." Restoration of carpet, pad, drywall and baseboard is one of the fastest changing areas in our industry. The evolution of less disruptive drying methods have enabled us to do more restoring and less reconstruction and replacement. The more we learn about the various materials in the homes we dry, the more we are able to prevent secondary damage from water contact. Instead of automatically replacing materials, we can cost-effectively dry them.
Airflow, airflow, airflow
The number one thing that increases the rate of evaporation from wet materials is airflow on wet materials, the more rapid the better. Of course, we also need to be able to handle the humidity created from this rapid rate of evaporation with a dehumidification system. Heat always helps, but there are practical considerations.
Remove the base trim
Removing the base trim to enhance evaporation has been used by our industry for several years.
Dry from the inside
Over the years, various methods and systems have been developed to dry wall assemblies. They all work if used properly and can speed up drying in many cases.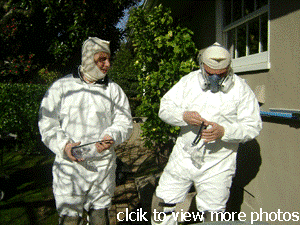 Structure and Contents Drying: Most fire losses are also water damaged due to fire-fighting efforts.

Structural Cleaning: Interior & Exterior Cleaning, Media Blasting, Walls, Ceilings, Flooring, HVAC

Contents Cleaning: Electronic Restoration, Clothing, Art Restoration, Upholstered Furniture, Oriental & Area Rugs

Smoke Damage Odor Removal: We have several methods at our disposal

Pack-out Service: With our 10,000 sq. ft. secure store facility

HVAC Duct Cleaning: Service for your complete forced-air system

Miscellaneous Services: Emergency Board-Up, Temporary Electric - Generators, Total Loss Inventory, Temporary Housing, On-Site Cleaning, Pack-Out/Moving & Storage
Emergency work may involve the following
Site safety. Have gas and electricity supplies been made safe?

Preliminary detoxification which may involve thermal fogging, a technique producing millions of deodorant particles in a fog that has a mist like appearance and ability to go wherever the smoke malodour has gone.

Ventilation of the property.

The application of solutions to burnt/charred surfaces and smoke damaged walls to prevent the evaporation of odour bearing molecules.

Removal of burnt/charred building materials and/or contents items dependant upon policy cover.

Application of granular odour counteractants to control airborne odour particles.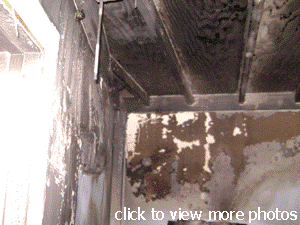 Following the completion of the emergency work a detailed assessment of the damage to the buildings and contents will be undertaken.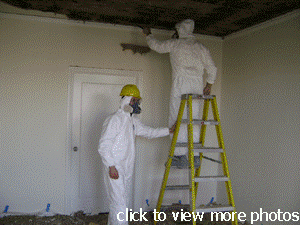 Mold represents a potentially significant health hazard for building occupants and a substantial liability for property owners. DRYFAST Restoration offers professional mold remediation following all EPA and OSHA guidelines as well as industry certification protocols. Remediation includes determining and eliminating the source of mold contamination, in-depth cleaning and disinfection of the affected areas, proper disposal of waste materials and protection of technicians from mold. DRYFAST Restoration has spent many years providing mold remediation services from small residential jobs to buildings and commercial structures affected by mold. Our technicians are highly trained and certified by the IICRC (Institute of Inspection, Cleaning and Restoration Certification) in the proper procedures to restore mold-affected properties. There is a certified technician on every DRYFAST Restoration job.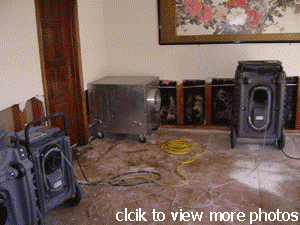 Air Scrubbers are placed and the work environment kept under negative pressure to keep mold from spreading to other areas. Air changes are set at four changes per hour based on industry guidelines.

If testing is to be performed it will be done prior to any further remediation efforts.

Depending upon the circumstances, a variety of techniques may be employed such as encapsulation, application of anti-microbial treatments, dry ice blasting, sealing, airless spraying, etc.

Any materials requiring demolition are removed two feet past any visible mold.
All areas are vacuumed with HEPA (High Efficiency Particulate Air) filtration vacuum cleaners and then wiped down with biocide. All visible mold on existing framing is sanded down to "no stain".

The entire affected area is then HEPA vacuumed again and retreated with biocide.

Air Scrubbers are then switched to "scrub mode" and run for 24 to 48 hours. Air Scrubbers are capable of capturing virtually every removable airborne particle.

The area is then ready for re-inspection and testing by Industrial Hygienist if required.
The breakout of disease at your home or place of work is an intense, distressing feeling. After the affected parties have been removed, we'll disinfect the property so that the disease doesn't spread further.
Bio-Hazardous / Infectious Waste Contamination
Exposure to bio-hazardous and infectious waste can pose serious health consequences for occupants, employees and business owners. Failure to properly remove such contaminants can contribute to very unhealthy, dangerous environments. DRYFAST Restoration will restore an environment soiled with organisms and blood-borne pathogens to a safe, pre-contaminated state.
Serve odor can be caused by any number of problems. From animal urine to smoke damage after a fire, the list of severe odor-causing pollutants is long. Once the source is taken care of and removed, a deep cleaning of the surrounding areas and neutralization of the air must occur. We have a large array of tools at our disposal to help remove any type of odor from your home or business. Causes of Severe Odor: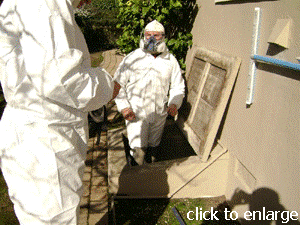 air-duct cleaning, air testing, video inspection,

and decontamination
Why should I be concerned with Indoor Air Quality?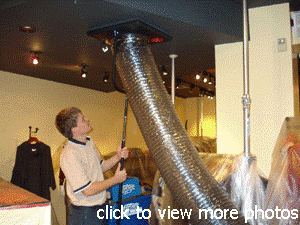 For many years health authorities and governmental agencies have raised our awareness to the dangers of outdoor air pollution and have concentrated their efforts on finding ways to reduce pollutants generated by automobiles, factories, construction and mining. Over the past two decades scientist have been carefully examining the indoor air environment of our offices, factories and homes and they have found this environment to be even more hazardous to our health than outdoor air.
Indoor air contaminants can originate within the building or be drawn in from outdoors. Particulate matter can come from far away places like blowing desert sands & volcanic eruptions or from nearby sources such as pollinating trees, industrial emissions, vehicle exhaust, cleaning chemicals & pesticides. If these contaminant sources are not controlled, IAQ problems can arise. Statistics show that 1 out of 5 (50 million) Americans suffer from allergies caused by substances found in the home and office. Deaths related to asthma have risen 40% in the past two decades.
Tip: To show more text click on the plus icon; to hide the text click on the minus icon.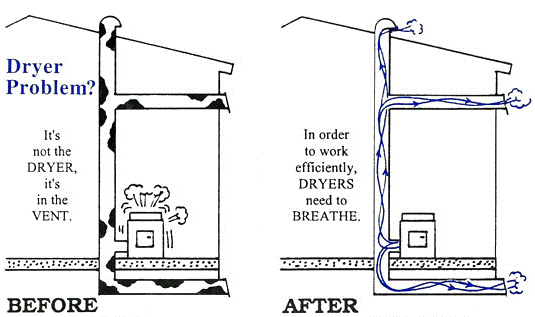 We start from behind the dryer.
We clean the complete vent run from behind the dryer clear through to the exhaust on the outside - no matter where it exists, roof or side. We also clean down below the lint trap in the dryer.
Our specialized equipment thoroughly cleans the entire vent system from the dryer to the exhaust vent hood, effectively removing lint buildup and allowing the dryer to operate at peak efficiency. Customers experience the immediate benefits of reduced drying time and energy savings, while receiving the long term benefits of reduced dryer damage and greatly reduced fire hazard.
When dryers take longer than one cycle to dry clothes, the amount of wasted energy can be substantial. This results in using two times, three times, or four times more energy than is needed to dry clothes. DRYFAST service operators provide professional service and can identify any problems which may be present in dryer ventilation systems. Most houses, condominiums, and apartments have never had their vents cleaned and by having them delinted regularly, most dryer problems could be prevented.
We guarantee that the vent will be clean!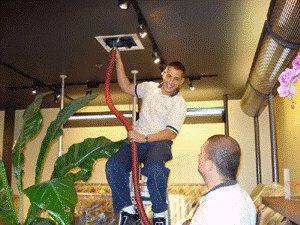 Studies have shown that indoor air can be 2 to 5 times MORE polluted than outside air. Most disposable filters remove about 10% of these pollutants allowing 90% to enter the air system, even during the construction of a new home. The pollutants contain dust, pollen, mold spores, animal dander and much more. These materials collect in the furnace, air conditioner and duct surfaces, just as they do on the furniture and floor surfaces. The furniture and floor are cleaned regularly but the duct surfaces are hidden from view and can only be reached by specialized duct cleaning equipment. These pollutants can migrate out into the room again, or become a food source for mold and bacteria, which can thrive in this dark comfortable environment from high humidity or moisture from the air conditioner or humidifiers. Biological growth can release mold spores or toxins into the air system.
Mold spores require a stable temperature, a food source and moisture to live and reproduce. Dust and dirt that go through the filter are a good food source. The furnace/air conditioner is designed to maintain a comfortable temperature, and moisture is available from humid conditions in the environment, the humidifier in the furnace or the cooling coils in an air conditioner. Live molds can release spores that will trigger allergic or asthmatic reactions, sometimes severe, in about 10% of the population. Mold both living and dead can produce toxins that may cause short term allergic reactions. Long term exposures to low levels of some mold toxins can result in permanent chemical sensitivity to common compounds in the environment.
Depending on the amount of contamination and its location, energy consumption could be increased. If the fan blades, evaporator coil or other control components of the system are heavily contaminated, the system may have to run much longer to cool or heat the occupied space, wasing a lot of energy.
There are 3 major parts to an air system: 1. The supply and return grills; 2. The interior surfaces of the supply and return vents; and 3. The furnace/air conditioner air handler. All 3 components must be cleaned. If only one or two of the components are cleaned, the contaminates from the 3rd component will rapidly contaminate the ones that were cleaned.
Once an air system is thoroughly cleaned, it should remain clean for 3 to 7 years if properly maintained and a high arrestance filter is installed. A standard disposable filter only stops about 10% of the airborne contaminates, allowing 90% of the dust in the room to flow back into the air system. To maintain protection against biological growth, an EPA registered biocide should be applied every 6 to 12 months by a qualified Duct Cleaning Professional.
All inside air was once outside air, so all of the dust, chemicals, pollen, insects and mold spores in the ouside air can be pulled into the air system. People shed millions of tiny dead skin cells every hour. Cooking smoke, household insect sprays, personal care products are also a source of pollutants. Many construction materials, carpets, wood products and plastics give off pollutants as well. During construction or remodeling activities, many types of dust are produced and find their way into the duct work. If the duct components were stored outside prior to construction, they may have collected dust, rain water and even mold before they were installed in a system.
This can depend on a lot of factors, such as the size of the home, the number of supply ducts, how long since the ducts were cleaned, etc. The whole system should be cleaned and a more efficient filter installed to keep the system clean longer. A competent duct cleaning company would not be able to do this for less than $300 for a small home or $800 for a large home.
Air-Duct Cleaning Procedure
Four important steps to properly clean an air system!
DRYFAST'S has trained technicians that will carefully clean your air-conditioning - heating unit and air-duct system to remove dust, dirt, pollen and other airborne pollutants. This series of steps and pictures is designed to give a general overview of the major steps required to clean and decontaminate a residential Furnace/Air Conditioner and its associated duct system.
Click on an image below to view the process of each step.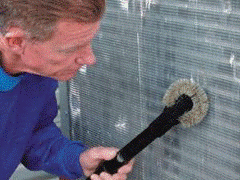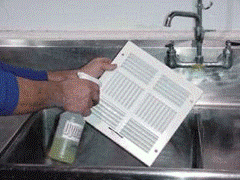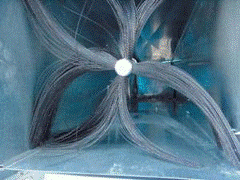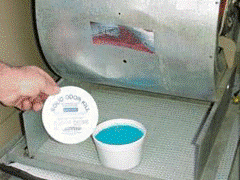 PERMANENT HIGH TECH FILTER NEVER NEEDS REPLACEMENT
This is the perfect companion product for your Air System Decontamination. You have invested in better quality indoor air, and this premium quality filter will keep your system clean and free of irritants for years to come. This high performance lifetime Furnace Filter replaces a standard low efficiency "throw away" filter with no modification to the system.
Benefits You Can Live With!!
No harmful ozone emissions

Reduces pollen, dust and airborne pollutants
Anti-microbial filter media

High dust & particle holding capacity
When cleaned as directed, your DRYFAST filter will give you many years of trouble free use. Failure to properly clean the filter may lessen filter effectiveness, and as with any air filter, it is possible for an excessive dirt buildup to cause air flow resistance sufficient to damage other ventilation components. Depending on your specific situation the filter should be cleaned every 4-6 weeks.
Simply remove the air filter

Flush with water in opposite direction of air flow arrows then rinse other side.

Spray with ZAP! CLEANER* to remove stubborn stains.

Rinse thoroughly to remove remaining dirt.

Drain excess water and reinstall.
* ZAP! CLEANER is a special electrostatic cleaner. Ask us for details. Item #CH1647
Illustrations show typical dust loading pattern of the electrostatic fibers. This unique characteristic improves air flow while providing maximum filtration.
The air you breathe contains many irritants such as pollen, dust, bacteria, mold spores, pet dander and smoke. Most of these particles are smaller than one micron. Your DRYFAST filter is an effective and efficient way to reduce the number of these particles in your air.
Smallest Visible Particle
10 Microns
Allergens - Low to Sub-Micron - Dust, Bacteria, Mold, Pet Dander & Smoke
Notes:
1. These are 'Nominal' sizes. The actual filter frame size will follow industry standard and be 3/8' undercut, i.e. a 12 x 20 will measure 11 5/8' x 19 5/8'. The width of the frames are 7/16', 7/8', and 1 ¾' for x ½, x 1, and 2 filters, respectively. Flexible frames are approximately 3/8" thick at the edges and 5/8"' thick at the center.
2. Custom sizes are also available, please specify the EXACT dimension that you want the FILTER FRAME to ACTUALLY measure. We will NOT calculate the undercut.
3. Flexible framed filters conform to the same specifications as the rigid aluminum framed filters, but have sewn Polypropylene webbing frame.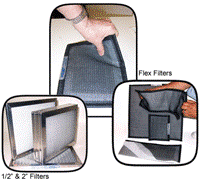 DRYFAST provides electrostatic air filters in many custom sizes and frames for virtually any configuration and application of air system. We provide standard frame widths of 1/2, 1, 2 in roll formed aluminum and 1 gold anodized extruded aluminum frames. Flexible frames are also available for applications where a rigid frame cannot be used. The standard flexible filter has the same construction and specifications as he Electra Silver 9400.
1/2 (7/16 Actual) rigid framed filters have 2 layers of polypropylene between 2 layers of expanded steel for improved air flow and igidity.
Two rigid framed filters configured with the same construction as the one Electra silver, but with a 1.5 white polyester ultra high loft impingement filtering center layer, this filter has the same ratings as its one inch counterpart. Many commercial air systems use banks of 20 or 40 or more 2 thick pleated filters. These high arrestance, low resistance permanent filters will give your commercial accounts an economic alternative to the disposable filter.
Flexible framed filters have a 1/2 polyester layer and an expanded steel stiffener sandwiched between 2 layers of polypropylene with a polypropylene webbing frame sewn around the edge. These 5/8" thick filters fit most 1" applications.
1 & 2 Prefilter frames consist of a roll formed aluminum frame with one layer of expanded Steel support secured to one side. The filter medium is tucked into the frame and is held by the fibers catching on the expanded steel support and the air flow. When soiled, it is easily removed for disposal and a clean piece of medium installed.
3/4 Blue & 1 1/2 White Prefilter media are available on rolls or precut sheets to fit the above filter frames.
Activated Carbon Odor Control Pad
This activated Carbon Odor Control Pad was originally designed for use in the space program to eliminate airborne pollutants on manned space flights.Air-Care brings this technology to the home heating and air-conditioning industry for your benefit. Each pad is individually wrapped to keep the material active until installation. One size fits virtually all filters.
The Activated Carbon Odor Control Pad can be installed in three quick and easy steps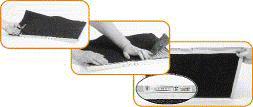 ELIMINATES:
Household Odors Fire/Smoke Odor Cooking Odors Pet Odor Paint Odor Musty Odor Cigar/Smoking Odor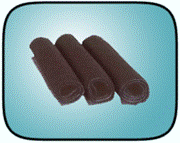 What is Indoor Air Quality?
A healthy indoor environment is one in which the surroundings contribute to productivity, comfort and a sense of health and well being. The qualities of good indoor air include:
Introduction and distribution of adequate ventilation air.

Control of airborne contaminants.

Maintenance of acceptable temperature and relative humidity.
Poor indoor air quality can cause problems and have serious consequences such as:
Increasing health problems such as cough, eye irritation, headache, and allergic reactions.

Reduced productivity due to discomfort & stress and increased absenteeism.

Accelerated deterioration of furnishings and equipment.

Strained relations between employees and employers or household inhabitants.
What is Indoor Air Quality Investigation?
The IAQ Phase I Investigation is designed to examine and identify problems within the indoor environment, draw conclusions based on the findings and provide a list of recommendations for an effective solution.
The IAQ Investigation encompasses a far greater scope than just measurements of indoor pollutants. It is accomplished by performing a detailed inspection and evaluation of the building systems and includes:
Visual inspections of the internal components and chambers of the air handling units.

Assessment of the filtration systems.

Examination of a representative sampling of the ductwork systems visually or with a high resolution optical duct-camera and video tape system.

Collection of microbial surface and air samples from relevant areas.

Air samples for the following in representative areas of the building: carbon dioxide, carbon monoxide, nitrogen dioxide, ozone, formaldehyde and hydrocarbons.

External factors are also examined to determine to what extent they contribute to problems within the building's environment.

Photo documentation may include: the roof of building showing AC units, the front of building, the rear of building (loading dock), office areas, shop areas, and janitorial closets. Problem areas such as water stains on ceiling tiles, any blocked or deflected air supplies, any dirt radiating from the air supplies or ducts, dirty air returns with filters removed and any other areas that could effect the indoor air quality or comfort level, temperature, drafts, noise or odors.
The environmental readings are recorded and the samples collected are evaluated in our laboratory. The results are compared to regulatory and industry standards and guidelines.
Upon completion of the IAQ Phase I Investigation a comprehensive, confidential report will be provided that includes inspection data, observations of the systems along with photographic evidence as to the condition of the systems. Where necessary, the report includes recommendations for corrective measures that will have a positive affect on the air quality within the building.
DRYFAST Restoration is the unique alternative for a perfect cleaning with a short drying time. Evolut-ION Carpet Cleaner offers even more. Evolut-ION Carpet Cleaner is a unique low V.O.C.'s and detergent free Professional Carpet Cleaner for Injection/Extraction. Carpet Cleaneris fully safe for Humans, Animals and the Environment. This product complies with the latest California Code of Regulations. Evolut-ION Carpet Cleaner reduces resoiling.
Stubborn stains and ingrained dirt will be easily removed, leaving your home smelling fresh and dry in no time. Most carpets take just one to two hours to dry. The gentle process does not harm carpet fibres or upholstery fabric, and there is no risk of shrinkage. Because there is no sticky residue, your carpets stay as clean as new for far longer. Hard working and quick drying, DRYFAST is just what you need around the family home.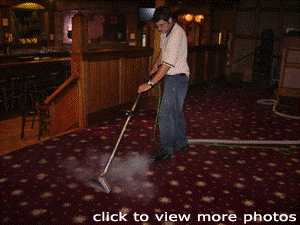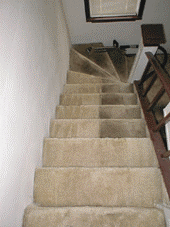 The cleaning agent "Evolut-ION" contains only totally safe, highly effective ingredients. It's just like giving your carpets a refreshing bath with mineral water. Your home is left fresh and clean, and there are none of the soaps and detergents found in other cleaners. "Evolut-ION" is also non-toxic with a neutral pH and after DRYFAST'S pure and gentle cleaning, you can even let your children play on the carpet in complete safety. Trust DRYFAST to look after your cleaning, your family and the environment.
Pet urine and odor removal
Leather & Vinyl - Cleaner, Conditioner, Protector

Mattress Cleaning Extraction

Wool and Berber Specialists

Carpet & Upholstery Disinfectant
Commercial Carpet Cleaning
A building with clean carpets improves the air quality and overall environment, making it a pleasant place.
This fresh atmosphere contributes to workplace wellness and tenant comfort.
Soiled carpets hold dust, particulates, allergens and fiber-damaging grit; therefore, keeping carpets clean means not waiting until they "look" dirty.
That's where an interim maintenance program is effective.
Not only is carpet appearance and cleanliness maintained between restorative maintenance cycles, but carpet longevity is also increased.
A comprehensive carpet care program always includes daily preventive procedures, scheduled interim maintenance and periodic hot water extraction deep-cleaning.
Easy, Effective, Green
Low-moisture organic compound, which meets criteria for green cleaning standards, makes dirt disappear.
Embedded soil is released and carpet is left looking new after each scheduled cleaning application without harming carpet fibers or leaving sticky residues.
Since only a small amount of water and solution is required during interim maintenance, carpet damage associated with over-wetting and facility disruption is eliminated.
The Importance of Minimum Cleaning Frequency
The secret to successful interim maintenance is simple: Schedule minimum cleaning frequency. frequency cleaning.
All the guesswork is taken out of maintaining the highest possible overall appearance.
This is not a complex process.
Having a scope of work sets a measurable standard to follow, which makes the facility manager's job easier.
All upholstery is carefully inspected prior to cleaning. We then decide on the most suitable process acording to the type of material and degree of soiling. DRYFAST Upholstery technician will preapare the area for the furniture cleaning but every care will be taken to protct the floor covering and surrounding furniture.
When the correct care is given, upholstered furnishings will last for many years. Upholstery can be cleaned by steam, foam, or dry cleaning.
We specialize in cleaning and protecting leather and vynil surfaces as well as cloth upholstery and carpeting. let us beautify and protect your sofa and loveseat by bringing our cleaning expertise to the interior of your home.

DRYFAST uses less water than other processes, minimising drying time and reducing the chance of mold, mildew, and bacteria growth. Millions of tiny effervescent bubbles burst dirt and stains from your upholstery fabrics, lifting them to the surface where they are thoroughly extracted. DRYFAST'S safe, non-toxic solutions actually help your fabrics stay as clean as when they were new. The unique advantages of using DryFast for your upholstery cleaning are:
Works on all kinds of upholstery, including the finest natural fibres and the hardiest synthetics.

Can be used around children and pets.

A money saver because DRYFAST leaves no dirt-attracting residues, which can prematurely resoil your upholstery.
Carpet Cleaning Protectant
DRYFAST is Authorized Scotchgard Applicator 3M Scotchgard™ Protector
It looks wonderful now... help it stay that way with Scotchgard™ Protector for Carpet and Upholstery. Keep your home cleaner, fresher, brighter... longer: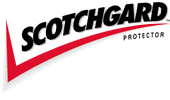 Helps protect against both oil and water based stains

Helps carpet fibers resist soiling

Helps spills blot up before they become stains
Helps stains release more easily when carpet and upholstery is cleaned

Helps carpet and upholstery stay cleaned longer Effective against fruit drinks, soft drinks and frozen fruit treats
Improves Vacuuming
Vacuuming is actually more effective with Scotchgard protector. Dirt is more easily picked-up, and fewer passes are required with the vacuum.
Simplifies Spill Cleanup
Scotchgard protector helps keep spills from becoming hard-to-remove spots or stains. It repels liquids, so spills can be blotted up quickly and easily.
Professional Application
The best time to apply Scotchgard protector is right after cleaning; DRYFAST - Authorized Scotchgard Applicator - can do it for you. Regular vacuuming and prompt cleanup of spills will help maintain the bright, freshly cleaned look or a long time.


Seven Steps to reduce dust mites and allergens:
Use a pillow & mattress covers then wash regularly.

Wash bed linen in hot water to kill the mites and remove their allergens.

Remove fitted carpets, as they are a popular breeding ground for mites.

Replace soft furnishings such as curtains, soft toys and sheepskins.
Regularly put your rugs and other soft furnishings out in the sun.

Improve ventilation to reduce humidity and open doors & windows to circulate air.

Vacuum once a week to keep the mites at bay.
Research has confirmed simple steps can reduce the household dust mites that are known to trigger asthma and hayfever. The study, by researchers from the University of Washington and Harvard University in the United States, evaluated practical methods to reduce dust mites in 39 low-income families' urban homes. Pillows and mattresses were encased in allergen-resistant covers, bedding was washed weekly in hot water and carpets and furnishings were steam cleaned and/or vacuumed. The researchers found all the measures were effective in reducing dust in the homes. Steam cleaning produced particularly good results, according to chief author Dr Darryl Zeldin.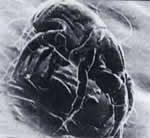 The levels of dust mites in carpet and furniture that had been steam cleaned & vacuumed stayed low for up to eight weeks after the treatment, compared to four weeks for vacuuming alone. Zeldin said:
"We believe that the hot, dry steam kills the mites and the vacuuming removes them from the carpet."
House dust mite allergy is one factor known to increase the frequency and severity of asthma. Dust mites live off human skin scales and thrive in warm humid climates. The protein found in their droppings is what causes an allergic response in humans.
First-class floor waxing, polishing & cleaning services
High traffic areas are prone to dirt and grit and can give a beautiful floor a less-than-professional look. Dirt and grit can damage your floors permanently and cause unsightly and unsafe scratches and nicks. Ensure the appearance and cleanliness of all your floors with high quality floor cleaning and waxing services from DRYFAST. With proper floor cleaning and waxing, your floors will maintain their shine and lessen the impact of everyday wear and tear. Experts advise that regular floor cleaning and preventative maintenance will keep floor surfaces looking their best and increase the longevity of your floor, saving you money in the long run.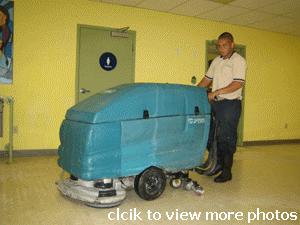 DRYFAST offer first class floor cleaning services for all floor surfaces including:
Our superior cleaning methods, floor care techniques and commercial floor waxes and supplies will exceed your high standards of cleanliness and floor appearance. Our floor cleaning and waxing services include:
High-speed polishing - Give your floors a professional shine with super performance high-speed floor polishing machines.

Waxing and sealing - Protect and buff your floors with high-quality, professional waxing products.
Honing - Remove scratches and etching from stone and marble to make a shiny, reflective surface.

Grinding - Remove scratches, adhesive, epoxy, and other similar coatings with industrial grinding machines.
Trust your floor cleaning and waxing to the experts at DryFast.
Minimizing labor cost by prevention
One of the most effective ways to keep floors looking their best while minimizing labor costs at the same time is prevention - preventing floors from becoming soiled, marred and discolored in the first place. This can be accomplished with an effective matting system. Such a system requires: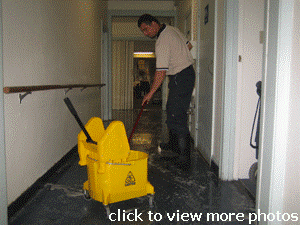 Mats to be at least 15 feet long. Such mats allow enough space for shoes to hit at least three times, removing as much as 90 percent of soil, oils, and moisture that would normally enter your building.

Mats to have a high level of scrapability. The scrapability of the mat - its ability to remove soil - is determined by the coarseness of the mat's fibers.

Mats to have a high level of absorbability. Absorption, to help trap these soils as well as oily substances and moisture, is determined by the thickness or denseness of the mat. The thicker the pattern, the more it will absorb contaminants and the less soil will enter your facility.
When an effective matting system is used, the need for such floor care tasks as heavy scrubbing and cleaning and dust mopping can be reduced and labor savings can be realized.
At the same time, with less dirt and debris entering your facility, there is also less of a need to do restorative floor care projects such as stripping, finishing and polishing.
Hard-surface floors play a key role in presenting the "right" image for a facility because they are often the first surface someone notices when entering an establishment.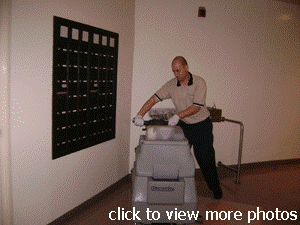 Indeed, it has been said: "If your floors shine, your facility shines," and that applies to floor care in just about every industry sector: Health care, education, business and hospitality, to name just a few.
And this does not pertain to just building entries, even though they may be a facility's most visible area. Portraying the right image also applies to indoor food courts, stores and shopping facilities, airport corridors, pool and fitness areas - indeed, just about anywhere hard-surface floors are found.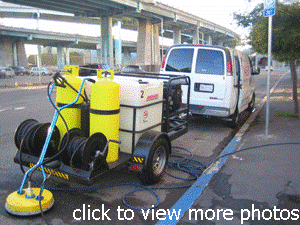 Pressure Washing enhances the look of your property by removing unsightly dirt, mold, cobwebs, oil, grease, and gum.
We provide monthly and quarterly maintenance programs, and will customize a schedule to meet your specific needs.
On-call or emergency visits? No problem! Our experienced, professional crew is equipped with commercial-grade HOT pressure washing equipment that can handle any size job from cleaning sidewalks to entire parking garages.
We offer a variety of services to commercial and residential properties.
Our past experience includes, but is not limited to:
Parking Lots and Structures

Restaurant Patios and Outdoor Areas
Patios, Decks, and Porches
Restoration & Environmental Services - 24 hour Immediate Response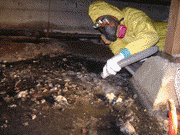 Insurance Companies/Adjusters
Service your insured AND watch YOUR bottom line

Advanced drying technology allows for "In Place" drying

Minimal to no tear out on "clean" water losses

Dry and restore most carpeting and sheetrock to a pre loss condition

Full service water damage restoration contractors - One call does it all

24/7/365 emergency service provider
Commercial property managers
Advanced drying technology minimizes tear out of building materials and allows for in place drying

Get tenants back in their offices and up and running faster

One call does it all - emergency drying services to full restoration contractors. If you have your own crews, that's OK also. We will complete the services that serve your operation best.

24/7/365 emergency service provider
Provide FULL service to your customers

Partnership/referral programs - commissions on all referrals closed

Established areas for return referrals
24 – Hour Emergency Hotline (866) FOR EXPO
Contingency plan for the "what if's" and the "you never know's"

If one of you listings has a water loss or mold condition you must have a plan

Frozen pipes, failed water heater, broken supply line - One call does it all

Ensure maximum sales potential for every unit you list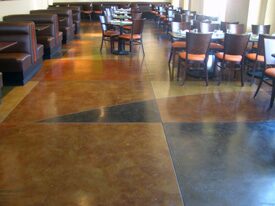 The appearance and condition of your floors are an immediate indication of your attitude toward quality, safety and the positive image you wish to present to anyone at your property. Concrete slabs on grade can be found in nearly every single industrial, commercial, and residential building. Whether they exist below a layer of flooring material or are exposed, slabs on grade provide foundation for all building foundations.
Whatever your concrete flooring needs, Concrete Finishes Inc. offers superior, comprehensive and economical alternatives to renew and restore your industrial or residential floor. Now concrete flooring can be transformed into beautiful, contemporary surfaces which provide improved safety, durability and a life-time of low-maintenance and cleaning.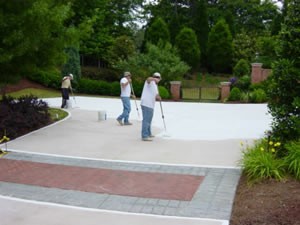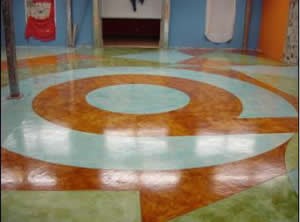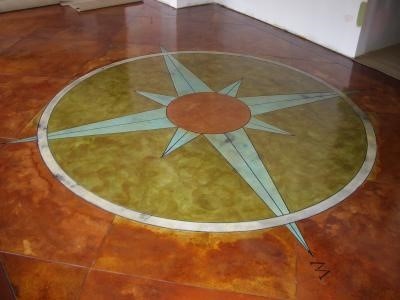 To create a floor that fits your unique style, we use:
The Latest Engraving and Polishing Tools